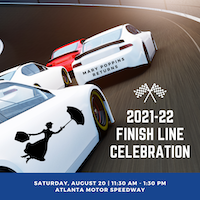 Mary Poppins returns to celebrate crossing the finish line of the 2021-22 Rotary year with a year-end Awards celebration along with a Membership Summit to kick off our 2022-2023 year.
Join us at Atlanta Motor Speedway for fun, fellowship, awards, and learning about 2022-2023 resources for membership growth success.
All 2021-2022 club officers and members are invited to the Finish Line luncheon. Attendance at the Membership Summit by 21-22 and 22-23 Club Presidents, Membership Chairs and your entire Membership Committee is encouraged for a most successful 2022-2023 year.
Those thrill seekers registering for the Finish Line lunch have the option to go for a hot lap around AMS in a pace car!